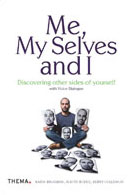 Het veel verkochte boek 'Ik (k)en mijn ikken. Ontdek andere kanten van jezelf met Voice Dialogue' is vertaald in het Engels onder de titel 'Me, My Selves and I. Discovering other sides of yourself with Voice Dialogue'
Verkrijgbaar als boek en als E-book. Order it today:  Me, My Selves and I.
Auteurs: Karin Brugman, Judith Budde, Berry Collewijn
Uitgeverij Thema | ISBN 978 90 5871 480 0 | € 26,99 | 2012
Watch this trailer about Me, My Selves and I and Voice Dialogue.
Recensies
'Karin, Judith and Berry are a great team! They have written a practical, delightfully easy to understand, and very valuable book on Voice Dialogue.'
Hal and Sidra Stone, founders of Voice Dialogue, Voice Dialogue International, California
'An excellent clear and concise yet remarkably complete presentation of the Voice Dialogue work.'
Robert Stamboliev, director Voice Dialogue World, the Netherlands
'This well-written book kept me engaged from start to finish. It is alive with vivid examples of how different inner selves can emerge and enhance our personal and professional lives.'
Mary Disharoon, licensed psychotherapist and director Voice Dialogue, California